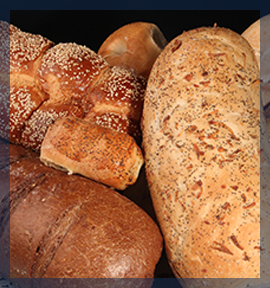 OUR BREAD
Our signature warm seedless rye bread helps to make our sandwiches the craveable experiences that they are.  Often imitated but never duplicated, these fluffy in the center, crisp in the crust beauties are served with pride daily at the Stage.  Whether providing the bookends for our delectable pastrami, dipped in Stage dressing as a before dinner treat, or sliced whole at our deli counter for your household deli feast, we're certain you will love the care that goes into each loaf.

Read what popular food author David Sax has to say about Stage Rye Bread:
"Most [sandwiches] are served on Jack Goldberg's famous double-baked rye, a Detroit specialty.  The best deli ryes have a crisp, amber-colored crust and soft center, though these are increasingly difficult to find, especially in New York.  Jack Goldberg pioneered the process of double-baking his rye breads…The warm loaf is cut into inch-thick slices on a diagonal.  When you bite into a slice of double-baked rye, the difference in taste and texture is astounding.  A thick, rustic crust greets your teeth, recalling the pleasurable chewiness of sourdough.  The warm center of a double-baked rye has an airier density about it and doesn't break apart when stressed with a Bye-Bye-Birdie (house-roasted turkey breast, chopped liver and Russian dressing).  It makes New York's rye taste like pigeon food".  Save the Deli, David Sax, 2009.